product description
Introduction of Transformer High Voltage Bushing
Transformer bushing is the main insulating device outside the transformer box. The leading wires of transformer winding must pass through the insulating bushing to insulate the leading wires and the leading wires from the transformer housing, and fix the leading wires at the same time.
Due to different voltage classes, transformer insulated bushing can be pure porcelain bushing, oil-filled bushing and capacitive bushing. The pure porcelain bushing is mainly used for transformers with 10kV and below. It is a conductive copper rod pierced in the porcelain bushing, and the porcelain bushing is air insulated. The oil-filled bushing is mostly used in 35kV transformer. It is oil-filled in porcelain bushing, and a conductive copper rod is threaded into the porcelain bushing. The copper rod is covered with insulating paper. Capacitive bushing is used for high voltage transformers above 100kV. It is composed of main insulating capacitance core, outer insulating upper and lower porcelain parts, connecting sleeve, oil pillow, spring assembly, base, pressure equaling ball, measuring terminal, wiring terminal, rubber washer, insulating oil and so on.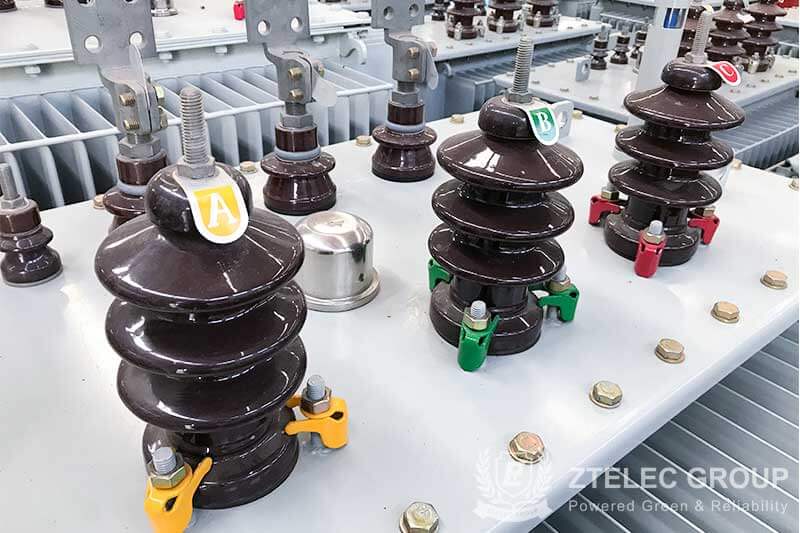 Structure of Transformer High Voltage Bushing
The bushing is mainly composed of capacitor core, oil pillow, flange and upper and lower porcelain bushing. The main insulation is capacitive core, which is formed by concentric capacitors in series and enclosed in a sealed container composed of upper and lower porcelain bushing, oil pillow, flange and base. The container is filled with treated transformer oil to make the main insulation inside become oil paper structure. The contact surface between the main components of the casing is lined with oil-resistant rubber gaskets. Each component is fully sealed inside the casing by a central compression force exerted by a set of strong springs arranged in the oil storage tank. The flange is provided with a vent plug, oil extraction device, and a device for measuring the dielectric loss of the casing (tan δ, medium loss) and partial discharge (local discharge). During operation, the outer cover of the measuring device must be covered to ensure that the end screen is grounded. No open circuit is allowed.
There are two ways of connection between bushing and transformer high voltage lead: cable piercing and rod carrying current.