product description
Description of FR4

FR-4 flame retardant epoxy fiberglass board is also called epoxy fiberglass cloth laminated board. It is plate-like laminated products formed by electronic grade fiberglass cloth impregnated with epoxy resin and fire retardant under hot pressing of high temperature and pressure with high mechanical property and dielectric property, good heat and moisture resistance, as well as strong mechanical processing property. The insulation class is F class, and the main color is white(original color), aqua, black and yellow.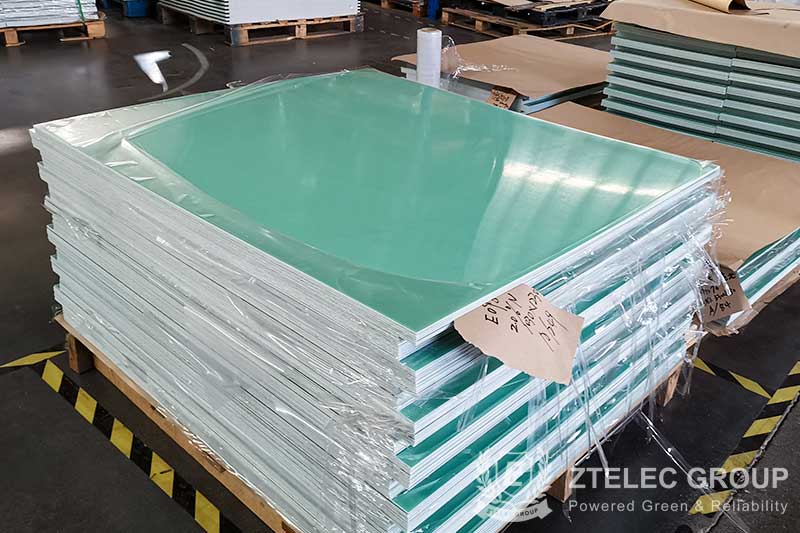 Application of FR4
It is suitable for insulating structural components of mechanical, electronic and electrical equipment with flame retardant requirements.
Thickness:0.3~100mm Specification:1020×1220mm;1020×2040mm;1220×2440mm
Advantage of FR4
FR-4 flame retardant epoxy fiberglass board, produced by ZTelec Group taking high-quality fiberglass cloth and epoxy resin as raw materials, can be mass-produced with advanced automatic production lines. This product has the advantages of reliable quality, uniform appearance and color and small thickness tolerance with strict manufacturing technology. The mechanical and electrical properties of products are superior to the similar one of other companies. Its quality is recognized by domestic and foreign large enterprises such as Lens Technology in China and Schneider Electric and sold overseas like European and American areas.
Property Parameter of FR4
Executive Standard: GB-T 1303-2009 - IEC60893-2004 
| | | | |
| --- | --- | --- | --- |
| Number | Item | Unit | Value |
| 1 | Density | g/cm3 | 1.8-1.95 |
| 2 | Water Absorption(Thickness:1-20mm) | mg | 17-73 |
| 3 | Flexural Strength at Perpendicular Lamination | MPa | ≥340 |
| 4 | Impact Strength at Parallel Lamination | KJ/m2 | ≥38 |
| 5 | Dielectric Strength at Perpendicular Lamination(Transformer Oil at 90℃)(Thickness:1mm) | KV/mm | ≥14.2 |
| 6 | Breakdown Voltage at Parallel Lamination | KV | ≥35 |
| 7 | Dielectric Constant(50Hz) | - | ≤5.5 |
| 8 | Dielectric Loss Factor(50Hz) | - | ≤0.04 |
| 9 | Insulation Resistance after Immersion | Ω | ≥5.0×1010 |
| 10 | Flammability | - | V-0 |
| 11 | Thermal Index | - | 130 |