ZTelec Group's Contribution to the Flood Rescue Action
From July 17 on, central China's Henan province had been hitting by continuous torrential rain. Heavy rainstorms were concentrated mainly in roughly 10 cities located in western, northern, and central regions like the provincial capital city Zhengzhou, prefecture-level cities Jiaozuo and Xinxiang etc. Strong precipitation led to disastrous flood, which caused casualties and huge property losses as well as damaging approximately 20, 000 hectares of crops. Residents seriously affected were relocated to safe areas.
In the afternoon on July 20, the rarely seen downpour paralyzed the traffic of the downtown area of Zhengzhou, where ZTelec Group is based. It was reported that Zhengzhou Metro line 5 due to severe waterlogging halted its service with more than 500 passengers trapped in the carriages and a dozen people unfortunately dead. In the meantime, a large number of passengers were stranded in Zhengzhou East Railway Station. The North Jingguang Road Tunnel and underground parking garages in various regions were flooded with plenty of cars trapped. What was worse, many road sections collapsed due to the heavy rainwater.
Most residential areas were cut off the water & electricity supply and internet access. People's daily life came to a standstill.
They say when disaster struck, help came from all sides. For ten consecutive days, people united together for flood fighting and rescue. The local government organized rescue teams to save people from danger and to pump rainwater.

Photo shows the rescue team pumping rainwater in the subway station
The disaster showed no mercy while people are warm-hearted. Civilians volunteered to send aid to other people in dire need of help. Of one accord, people from different regions donated emergency supplies and provided meals and makeshift shelters for trapped people.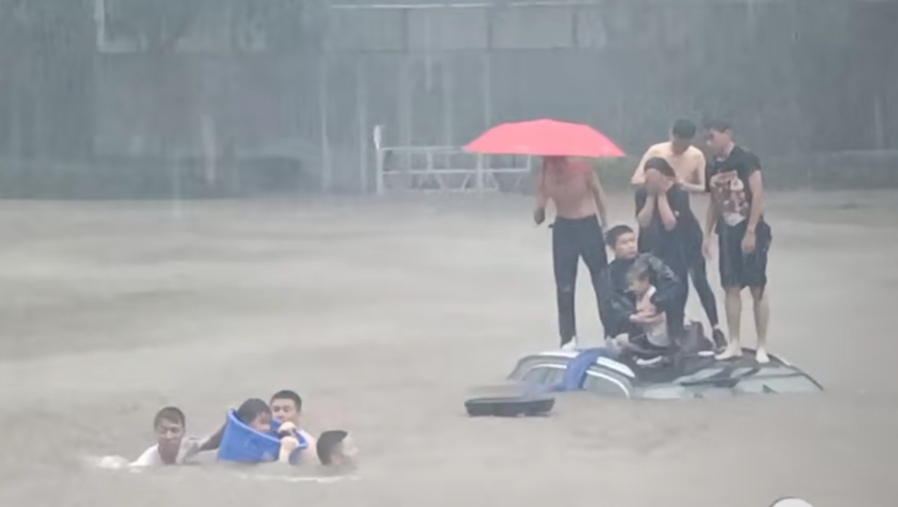 Passersby rescued two children and an adult by smashing windows of the trapped car.
ZTelec Group also lent a helping hand at the hour of need by supplying hot water, food and rest places to stranded people nearby. On July 26, the company held a meeting for expressing condolences to the victims and calling on its staff for donations as soon as it generally got back on track. ZTelec Group will donate 10,000 RMB and medical masks to the disaster-stricken areas and people, making its contribution to the rescue action.
To this day, thanks to the joint efforts of the government and civilians, things are getting back to normal.
more+releated article