Where sells the bakelite sheet?
2021-06-03 11:21 | By:
ZTELEC
| 139click
Bakelite sheet is also known as plastic board, phenolic laminated paperboard. It is made of high quality bleached wood paper and cotton flannelette paper as reinforcing material and phenolic resin made from high purity, fully synthetic petrochemical raw materials as resin binder.
What are the properties of bakelite sheet?
The bakelite sheet like black bakelite sheet has good electrical performance under normal temperature, mechanical processing performance is good, specific gravity 1.45, warping degree ≤3‰, with excellent electrical, mechanical and processing properties. Paper bakelite sheet is the most common laminate and the most widely used industrial laminate sheet in the world.
Main properties of bakelite sheet: good mechanical strength, anti-static, intermediate electrical insulation performance. The black bakelite sheet is made of insulating impregnated paper soaked with phenolic resin by baking and hot pressing. The bakelite sheet near me is suitable to be used as insulating structural parts of the motor, and electrical equipment with high mechanical performance requirements, and can be used in transformer oil. The black bakelite sheet has good mechanical strength, suitable for PCB drilling pad, distribution box, fixture board, mold splint, high and low voltage wiring box, packaging machine, comb, etc. The bakelite sheet is suitable for motor, machine mold, PCB, ICT fixture, forming machine, drilling machine, and table grinding pad.
Application field of imported bakelite sheet: suitable for PCB drilling, silicone rubber mold, jigs, switchboard, and electrical machinery parts.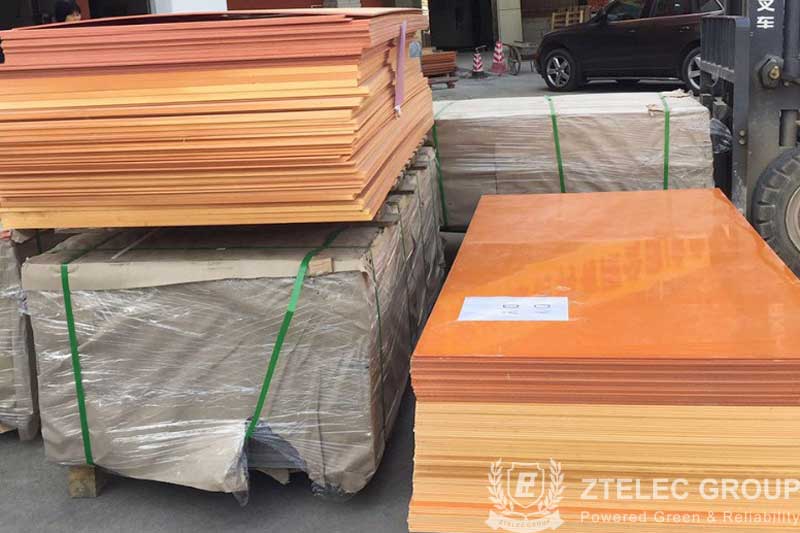 Where sells the bakelite sheet - ZTelec Group will let you choose at ease
Reason 1: Professional insulation materials production and processing manufacturer
ZTelec Group can produce according to customer drawings or samples and provide the best product solutions.
Reason 2: A lot of industry technical talent
ZTelec Group recruits a large number of various talents. The technical personnel in the production department have more than 9 years of production experience.
Reason 3: The introduction of advanced high-end equipment
ZTelec Group has a variety of advanced equipment such as machining center, CNC milling machine and so on.
Reason 4: Good quality and fair price
Whether it is insulation board, epoxy board, copper-clad board, bakelite sheet, phenolic board, reinforced board, lapping carrier or engineering plastic processing, our products are deeply satisfied by the majority of customers. In the past 2020, the complaint rate is 0, the satisfaction rate is 100%.
If your company needs to buy bakelite sheet, or needs bakelite sheet processing, ZTelec Group is very willing to cooperate with you. If you need specific details, such as bakelite sheet price, you can consult our online customer service.
more+releated article